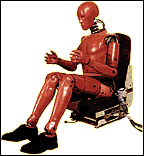 Project:
create an item of clothing using wool, cotton, leather, and electronic component, conductive fabric or thread.
Process:
I've decided to start bringing in thesis idea influences early on in this class.
Experimental Devices for performance is this weeks working title. You can read more about my thesis proposal and research here or here as a pdf (34k)
For this project specifically I am interested in exploring soft video. As an initial exploration into this topic I decided to see whether or not it is possible to send composite video signal over conductive thread.
Looks like it's all systems go for now.
I've decided to start with some sketches that I've made during our first week of class. Then it's on to construction.
The Hat
I am using a hat-on-hat combo that I usually wear as a daily fashion choice. The under-hat is a New York Yankees hat with a rigid brim. This will be used to attach the cameras. The over-hat is a crocheted black cap that Kristin made for me. This will be used as a place to put the conductive fabric video lead patches as well as housing for batteries and wires.
The cameras are my standard low-cost security camera of choice from super circuits. I've used coat hangers from the dry-cleaners to attach the cameras to the hat.
The camera's composite output terminates in a standard female RCA connection (there is no sound). I've made my own male RCA connector that terminates on the opposite end in a snap connection. The signal and ground of the video cable are soldered to two seperate female snaps. This is done to be able to make a solid connection between the wires and the conductive fabric of the patches. (Soldering to conductive fabric or thread is not very feasible.) The male side of the snaps are sewn to the crocheted hat with conductive thread, which is also used to sew the pathes of conductive fabric to the hat.
Now the camera's RCA output leads are connected solidly to the individual patches of the hat. One for signal and one for ground. In this way I will be able to reverse engineer this process on the television side of things.
The Television
Two patches of the same conductive fabric are attached to the television and positioned so they line up with the patches on the hat. Signal to signal and ground to ground. The same fabric sewn to snap and snap soldered to wire technique that was used on the hat is implemented here.
After I attach some 9V batteries and hide them in the fold of the skull cap, the first prototype of Experimental Devices for Performance # 1 is ready to be demo-ed.
Result: